You have packed your bags, turned in your final rental payment, and steam cleaned the carpets at your old place. Now, you need to move all of your belongings to your new home or apartment. If you are like most people, you need to dispose of some furniture and want to arrange a San Francisco furniture donation pick up to get rid of all of your old items.
Fortunately, there are many thrift stores, charities, and second-hand stores you can check out to get help with this. Options like Habitat for Humanity in San Francisco offer free furniture pick up. All you have to do is arrange your pick up in advance.
When you get furniture donation pick up instead of dropping it off on your own, it saves you time and money. Avoid trekking across the city with a bunch of furniture by having a professional team come get your old items so they can go to a good cause. With the right San Francisco furniture donation pick up services, you can speed up your relocation and also help people in need.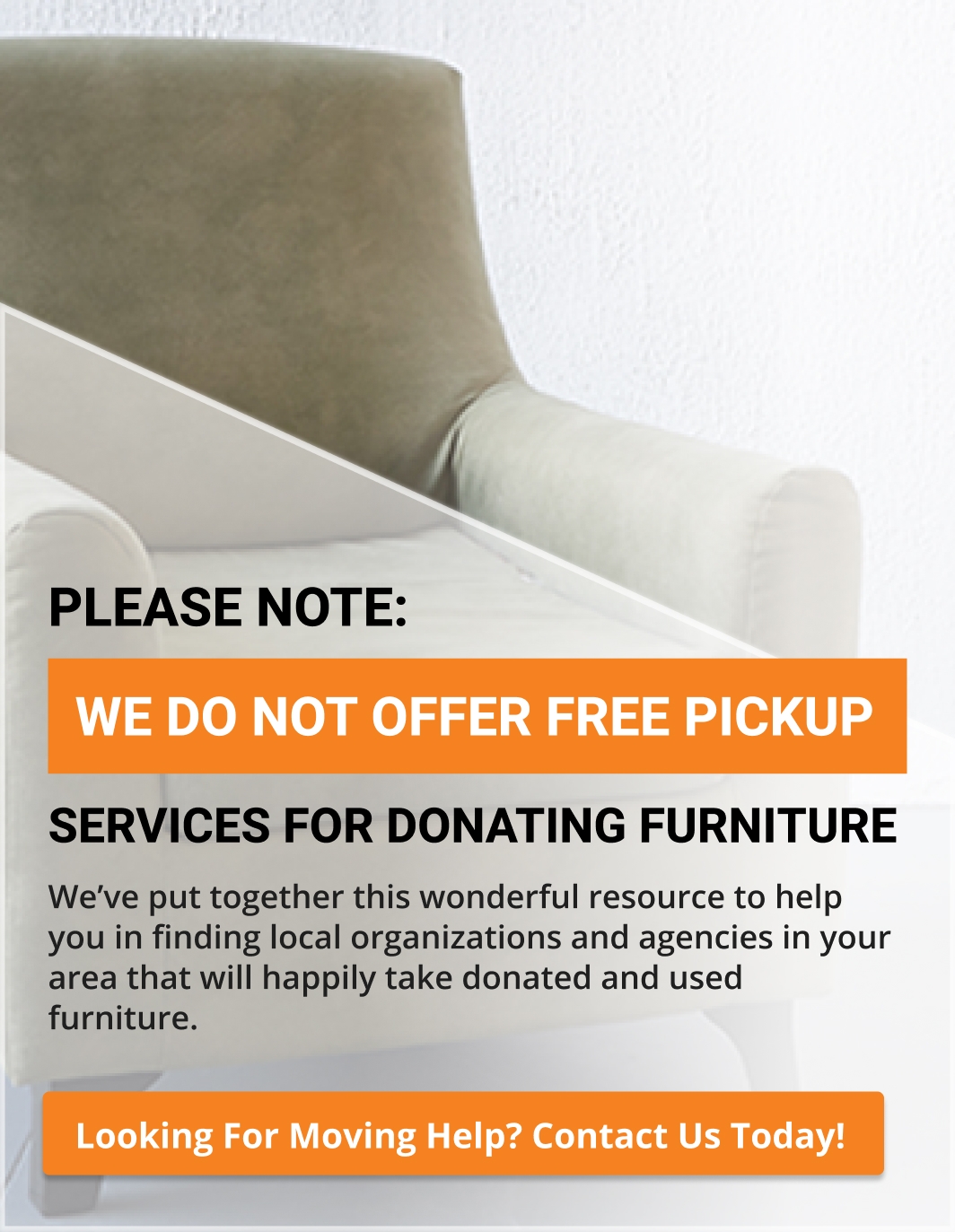 Things to Remember Before You Donate in San Francisco
Before you find the answer to who will pick up donated furniture in San Francisco, you should keep a few key details in mind. Donation centers at thrift stores and second-hand shops make money by reselling old items. Because of this, your items must be in good condition if you want to donate them.
Whether you get Habitat for Humanity or Goodwill pickup in San Francisco, the requirements will be basically the same. Your items can't be torn, dirty, or broken. If your items are in poor condition, the location is unlikely to accept them.
You should also check the pickup schedule before you donate somewhere. Some organizations only offer pickup services on certain days or times during the week. In addition, some stores have waitlists, so you should schedule your furniture donation in San Francisco as early as possible.
It is also possible to get tax breaks when you schedule a furniture donation pick up in San Francisco. If you want to deduct your donation, you should get a receipt from the charity organization as proof. Then, you can deduct the fair value of your contribution using IRS Form 8283.
You are only allowed to deduct half of your adjusted gross income for the current year, so there are limitations on how much you can deduct. In addition, your donation must go to a recognized charity or a licensed non-profit organization, meaning you can't simply donate to a private party and still get a tax deduction.
If you are already done with the moving process, you can still donate furniture in San Francisco. You can schedule a pick up before, during, and after your relocation. Even if you aren't moving, you can still get your furniture picked up if you simply want to free up space in your home.
Who Will Pick Up Donated Furniture in San Francisco?
If you are moving to San Francisco, you need to determine where to donate furniture in the area. Fortunately, the following locations make donating furniture in San Francisco fast and easy. Depending on the place, you can schedule your furniture pick up online or via phone.
Another option for furniture donation in San Francisco is Arc San Francisco. Arc was originally started in the 1950s with the goal of helping individuals who have developmental disabilities and their families. They assist these individuals with finding jobs, becoming educated, and enjoying their independence.
Since it first began, Arc San Francisco has expanded to serve adults in three counties. It provides health and wellness programs, residential programs, and senior services. Through Arc, people can socialize with others and lead fulfilling lives.
View this post on Instagram
Arc also helps people with donating furniture in San Francisco. You can arrange for free furniture pick up through their affiliate called Community Thrift Store. If you have a short timetable, then you can also drop off your furniture as well.
All of the donated items should be in clean, usable condition. Arc San Francisco accepts movies, music, housewares, household furniture, jewelry, accessories, art, books, adult clothing, electronics, and collectibles.
Currently, they don't accept any children's items, cars, cosmetics, or exercise equipment. They are also unable to accept mattresses, office furniture, futons, bed frames, box springs, bean bags, and cubicles. Additionally, Arc won't take patio furniture, unassembled furniture, sofa beds, filing cabinets, or conference tables.
Arc of San Francisco, 1500 Howard Street, San Francisco, CA 94103  (415) 255-7200
Goodwill pickup in San Francisco is a great option if you need to find out where to donate furniture in the city. Goodwill works to help people get job training and computer skills. Through Goodwill's programs, individuals in the community can get help finding a job.
View this profile on Instagram
If you want to support a good cause, you can schedule a San Francisco furniture donation pick up through Goodwill. Because of the popularity of this service, you may want to schedule your donation at least seven days in advance.
While the schedule will most likely change in the future, Goodwill is currently only doing furniture pickups on Wednesdays for people in certain areas of San Francisco and Marin. They accept most kinds of furniture, but they don't take any mattresses, beds, bed frames, or headboards.
Goodwill, 580 Brannan St, San Francisco, CA 94107  (415) 575-2145
The Salvation Army is committed to helping the community, and your furniture donation in San Francisco supports their work. Across the globe, branches of the Salvation Army help people combat addictions and poverty. They provide homeless shelters, food programs, and educational programs.
View this post on Instagram
When you donate furniture in San Francisco at the Salvation Army, your donation will make a difference. You can use their website to schedule a donation pick up or find a location where you can drop off your donation.
Like other thrift stores, the Salvation Army can't take any damaged, dirty, or torn items. You can donate household goods, furniture, appliances, automobiles, and clothing.
Salvation Army, 4000 19th Avenue, San Francisco, California 94132  (415) 585-8877
Out of the Closet in San Francisco is one of a number of organizations, which will gladly pick up your furniture donations. Located in the heart of San Francisco, this store is one of two locations San Francisco has to offer. Why not support a good cause while getting rid of your old furniture? Out of the Closet supports the local community and beyond by benefiting the AIDS Healthcare Foundation. It is noteworthy to mention that 96 cents of every dollar made go back into HIV care and services.
The Out of the Closet chain is owned by the AIDS Healthcare Foundation, which provides medical and preventative services as well as educational resources for patients and their loved ones.
View this profile on Instagram
Getting started is easy, simply call the store and you will be connected with their dispatch team to arrange for your pick up.
Before you schedule your donation, you want to find out whether your items will be accepted. Out of the Closet does not accept large office desks, mattresses, or water beds. To see a list of what is accepted and what is not click here and confirm, when you schedule your donation pick up. They do accept items like household furniture, women's and men's clothing, shoes, books, and housewares.
Out of the Closet, 1295 Folsom St, San Francisco, CA 94103 (415) 771-1503
Locations Offering San Francisco Furniture Donation Pick Up Map
Simplify Your Move With Furniture Pick Up in San Francisco
If you are in the process of moving to a new home, San Francisco furniture donation pick up can help. Along with being convenient, learning where to donate furniture can also save you time. As an added benefit, your donation can help support a good cause and reduce the amount of furniture in landfills.
Are you looking for an agency to do a pick up of your donated furniture? Please reach out to one of the agencies mentioned above. Do not call AMS Bekins Moving.
Do you need help with an upcoming relocation? Get in touch with the efficient San Francisco movers here at AMS Relocation by calling (650) 284-2931! Or take a moment to complete the Request a Quote form on this page for a free San Francisco moving estimate!