Let's be honest, getting rid of furniture that you no longer want is a huge pain. Not to mention, you are usually doing it because you are moving, which is already stressful enough. Moving consistently ranks as one of the most stressful events in an adult's life. There are so many moving parts (pun intended) to think about all at the same time. Hiring movers, signing leases, buying new furniture for your new space, packing up all the stuff you want to keep, the list goes on. The last thing you want to give your time and energy to is getting rid of the stuff you don't want to take with you.
Getting rid of small items isn't necessarily that hard, but when you start looking at discarding grandma's solid wood dining table, or your extra long couch, you might start to feel stress coming on. It's heavy! It's cumbersome! It's in the way as you try to pack! You need to enlist friends and neighbors to help get it out of your life! There's something better you can do than just throw it out for bulk pick-up. You can recycle it by donating it! Donations can help someone else who is looking exactly for what you no longer need and many charities will come to your home to pick up the goods!
There are many reasons why you'll want to donate furniture in San Jose. Maybe you are concerned with the environment and would rather put your old furniture to good use instead of having it dumped in a landfill. And don't forget about that good old tax write-off in San Jose you get for your donation! Remember to make sure you appraise your furniture fairly, get a receipt from the charity, and include all the details when you file your taxes. Appraising the furniture fairly means making sure you are writing off the fair market value – what someone would pay you today if  they were purchasing it. You can find more information on the IRS website here.
Now that we've hashed out the benefits of donating your furniture, let's find a place for you to schedule a furniture pick-up in San Jose. Not all charities do this, and some don't even accept large items. Looking through all the different websites to figure out which ones will take your items and which ones will allow you to schedule a pick-up takes time. Lucky for you, we have put together a donation guide with all the details you need about the top-rated charities in San Jose.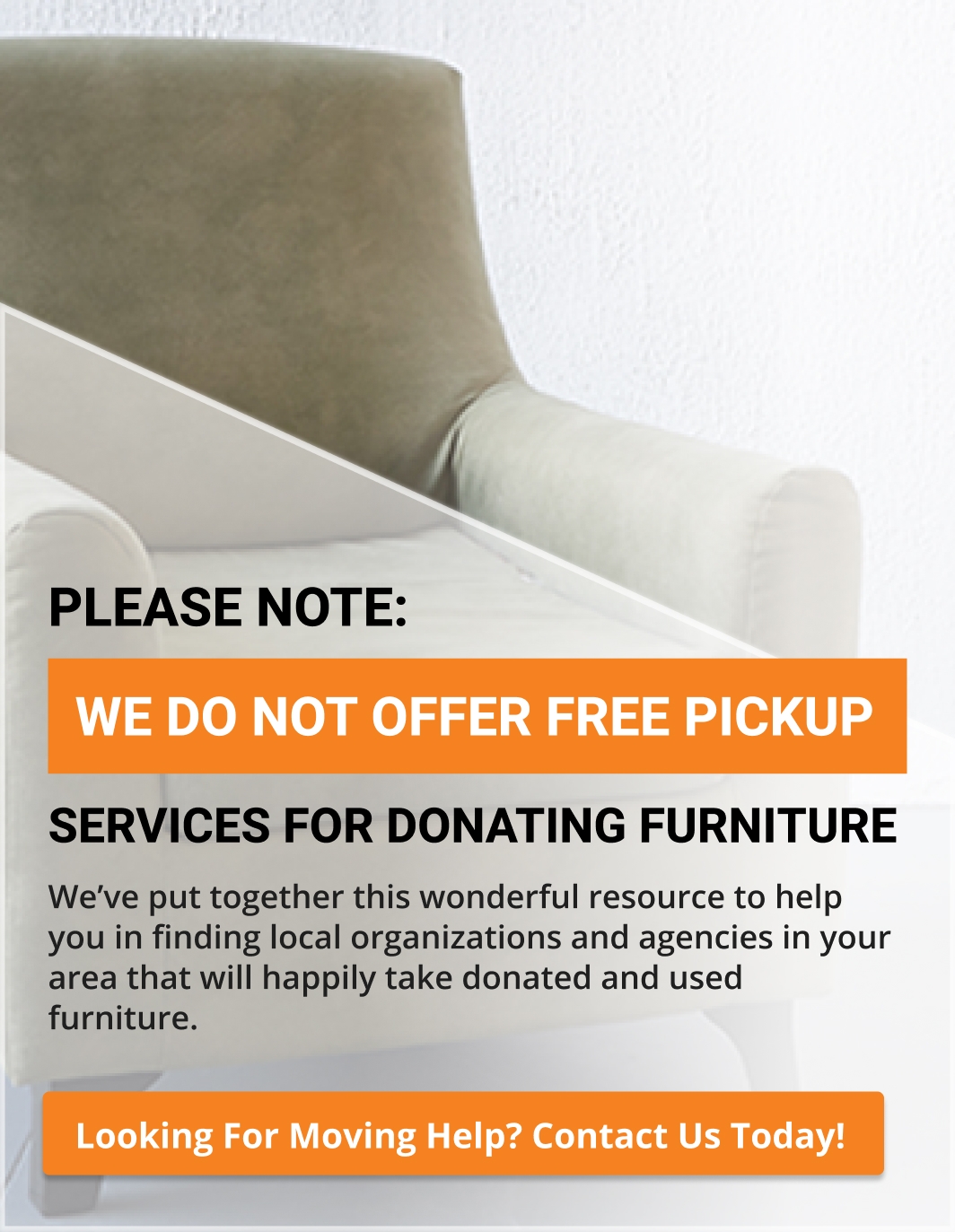 View this post on Instagram
Habitat for Humanity opened its San Jose branch in 2012. One of their main focuses is to build homes for low-income families who would otherwise be unlikely to afford them. The funds they make from their thrift store sales go directly to building homes locally for families in the East Bay/Silicon Valley area.
Because of their mission, they can accept a wider range of items, Besides furniture, they will also accept unused lumber, glass, and other construction materials in larger quantities. You can click here to see their full list of acceptable and non-acceptable items. Due to COVID restrictions, they are not currently accepting cloth or fabric items such as upholstered couches, curtains, and carpet. Check back with them because this condition is subject to change! You will want to make sure your item is in good working condition or they will reject it. You can drop off your items directly at their San Jose locations on Wednesday – Sunday 9:00am – 4:00pm or you can request a pickup by filling out their online form here. You can also call them at (408) 929-2203. Make sure you plan your free furniture donation pick-up well in advance because they are usually already scheduled for several weeks out.
1608 Las Plumas Ave.San Jose, CA 95133 (408) 929-2203
Donation DAV | Curbside Pick-Up Company Helping Veterans
Donation DAV isn't a furniture store in San Jose but rather in the business of helping out our US veterans. They don't have a storefront. They figure out what government assistance programs vets have earned through their service and help them sign up for everything for which they qualify. The items that are sold through donation help fund DAV's efforts to get veterans the assistance that they are entitled to.
Donate DAV is actually one of California's longest running donation pick up services. They do not accept drop-offs and instead always come to you to pick up your items.  They recently started allowing convenient online scheduling which you can do here. You schedule a time, leave your items out on the curb, and they will come and pick them up. They will also leave you a tax deductible receipt. To learn more you can email there at [email protected] or call them at (800) 238-8387.
Hope Services | Secondhand Furniture Store in San Jose Offering Pick-Up
Hope Services has focused on helping people with developmental disabilities since 1952. They offer day services, training and employment, community living, and mental health services. They currently help over 3,500 people and their families in six California counties. The HopeTHRIFT shops are among the businesses they operate to help fund their initiatives. You can donate your items at their location in San Jose, but make sure to call ahead at (408) 677-3803  because they only accept donations for a certain period of time each day. Large item donation-pick ups are up to the discretion of the individual stores, but they do not accept mattresses.  You can also donate your car, even if it is not in running condition, and they will come and tow it away.
30 Las Colinas Lane San Jose, CA 95119  (408) 677-3803
View this post on Instagram
The Salvation Army is one of the best known charities in the country. They have various programs to help those who are battling addiction, the homeless, and the disabled. The money they make from selling donations goes directly to fund no-fee rehabilitation services in San Jose. Due to COVID restrictions, they are not currently offering pick up services in San Jose, but you can drop off your donations at several locations. You can check here by putting in your zip code to see if pick-up has resumed in your area and to find the location nearest you.
They can accept some bigger items such as couches as long as they are not sectionals. The items you donate will need to be in working, usable condition. They will not accept items that are damaged and need repairs. To view a complete list of acceptable and non-acceptable items click here.
359 N 4th St, San Jose, CA 95112 800 (SAL) ARMY
Goodwill has been around for decades helping people who face challenging barriers to becoming employable. They do this through programs that give people the tools to live more independently, career workshops, wellness centers, and more. They have many locations in the San Jose area and you can click here to find the one closest to you.
Goodwill will not accept furniture that is ripped, stained, or otherwise damaged or in need of repairs. They also have size limits on furniture so you will want to give the specific drop-off location you are going to a call to make sure your item can be donated.  Currently, Goodwill of Silicon Valley is not conducting pick-ups because of COVID restrictions, but check back with their website to see when they resume.
1080 N 7th St. San Jose, CA 95112 (408) 998-5774
PARCA | Schedule a Curbside Pick-Up of Smaller Items
Parca provides a wide range of services to people who have developmental disabilities including independence training for adults, educational and recreational child care programs for children, and many more services for children, teens, and families.
They don't have large furniture donation pick up, however they will come and pick up your clothes and smaller household items in San Jose.They accept many items you may find convenient to have taken off your hands without having to go anywhere, like bedding, kids' toys and games, pots, pans, small kitchen appliances, and much more. You can see a full list of acceptable and non-acceptable items here. If you want to schedule a pick-up with PARCA, you can use their online portal or call their donations center at (650) 312-0725. Keep in mind that they do not have a drop off center, so you will need to schedule for this.
Map of San Jose Furniture Donation Centers
Are you looking for an agency to do a pick up of your donated furniture? Please reach out to one of the agencies mentioned above. Do not call AMS Bekins Moving.
Are you looking up where to donate furniture in San Jose because you're moving? If so, don't do it alone! Our top-rated moving company, Republic Moving, will help you get to your new residence quickly and efficiently! Give us a call at 619-000-0000 for a free quote today.