Buying a house in San Francisco or renovating? Building a custom home with a Bay Area home builder and ready to work with an interior designer to bring it to life? San Francisco interior designers can help you make your vision a reality or design a space that fits your aesthetics and lifestyle. You'll enjoy a space that's functional, beautiful, and inspiring to give your home the wow factor and make you excited to return home each day.
This guide to the top San Francisco interior design firms will give you plenty of options to get started whether you're looking for timeless mid-century modern design, modernist design focusing on negative space, or a bold mix of color and texture.
Sacramento Interior Designers vs Interior Decorators: What's the Difference?
Before you hire a Bay Area interior design firm, make sure you understand the scope of your project and which type of expert you need. There's a difference between interior decorators and designers, even though the terms are sometimes used interchangeably.
San Francisco interior decorators handle decorative and aesthetic details to decorate your home. They can help with choosing materials, colors, patterns, furniture, and accessories as well as space planning and pulling your design together.
Bay Area interior designers offer more in-depth services. They typically have formal education, may be licensed or certified, and often have additional skills to offer. Along with decorating and choosing furnishings and colors, an interior designer can help with:
Whole-home renovations or remodeling
Floor plans and blueprints
Architectural elements and structural changes
Adding windows or doors
Project management
An interior decorator is usually more affordable if you simply want to redecorate and change out colors, furniture, and accessories. Choose a certified interior designer if you have a large or complex project that will require coordination, structural changes, or floor plan changes.
Noz Design | Full Service San Francisco Interior Designers Create Spaces that Tell a Story
Founded in 2014, Noz Design is a full-service SF interior design firm founded by principal interior designer Noz Nozawa. The firm focuses on designing spaces that tell a story and feel collected over time to reflect your lifestyle while remaining functional. The POC- and woman-owned business also includes two associate designers and a studio/project manager.
View this post on Instagram
Noz Design has earned numerous awards over its relatively short life including Rising Star (2020, Architectural Digest), Best Designer of the West (2020, Sunset Magazine), and Next Wave Designer (2020, House Beautiful). Their approach begins with listening to your story, functional goals, and vision to understand how to incorporate sentimentality, how you want the space to feel, and how you want guests to feel. Their services include:
Full-service San Francisco interior design including furnishings only, cosmetic and gut renovations, additions, and new builds
Design and decorating specifications (including budget planning, spreadsheets with product specs and materials, and design concepts)
Project management for trade pieces, window treatments, and custom furniture
Contact Info & Portfolio
Jeff Schlarb Design Studio | Award-Winning Bay Area Interior Design Known for Bold Color, Pattern, Art & Texture
Jeff Schlarb Design Studio has been featured in the San Francisco Decorators' Showcase in 2018, 2015, 2012, and 2011 as well as Luxe Interiors + Design, Elle Decoration, San Francisco Chronicle, and Century Home. Jeff Schlarb, the man behind one of the top interior design firms in San Francisco, was recently featured in a 10-page cover story in CA Home + Garden and described as a Modern-Day Maximalist.
View this post on Instagram
JSDS is known for its bold use of color, texture, pattern, and art to create layered, complex looks that remain balanced and timeless. Their daring team of 16 San Francisco designers create memorable interiors that reflect the lifestyles of their clients. If you're looking for a unique style that blends art with function and aren't afraid of bold textures and colors, Jeff Schlarb Design Studio is the best choice for Bay Area interior design.
Contact Info & Portfolio
Form + Field | One of the Best San Francisco Interior Design Firms for Sleek & Eclectic Modernism
Form + Field is led by Christine Lin, a San Francisco interior designer with degrees in business, engineering, and architecture from UC Berkeley and MIT. This full-service interior design firm is known for its focus on form, art, architecture, and eclectic modernism. They design commercial and residential spaces that emphasize negative space, sleek lines, natural light, and creative use of art, color, and texture in unexpected ways.
View this post on Instagram
Contact Info & Portfolio
Ann Lowengart Interiors | San Francisco Interior Designer Known for Bold Color & Pattern
Ann Lowengart Interiors has earned a reputation among Bay Area interiors for the firm's use of bold colors and striking patterns to create multi-dimensional, modern spaces. Their work has been featured in Better Homes & Gardens, Luxe, Huffington Post, Architectural Digest, Town & Country, HGTV, Modern Luxury Design, and more.
View this post on Instagram
ALI was founded in San Anselmo by Ann Lowengart in 2000. Her work has been described as invigorating and fearless yet incredibly diverse and somehow grounding. Her design spectrum ranges from chic and classic to bohemian and powerfully colorful, breathing life into classic 19th century homes with eye-popping splashes of shamrock green and Caribbean-inspired shades of blue.
Contact Info & Portfolio
Fiorella Design | Inspiring, Functional SF Bay Area Interior Design
Founded by Mary Jo Fiorella, a certified San Francisco interior designer, Fiorella Design has earned a reputation as one of the best Bay Area interior designers for corporate and residential spaces.
Fiorella Design is a full-service interior design firm. San Francisco commercial and residential clients appreciate their functional designs that are made for living with natural lighting and plants incorporated for an inspiring, healthy space. Designer Mary Jo focuses on natural, recyclable, sustainable, and repurposed elements whenever possible including rustic wood, natural linen, glass, and metal.
View this post on Instagram
The firm's services include:
Interview and survey of your current living situation
Space planning based on how you interact with the space and live
Design development using furniture, colors, and materials that support the function, lifestyle, and aesthetics best for you
Pricing, permits, construction, and purchasing
Coordination of contractors and consultants
Contact Info & Portfolio
Design Matters | 25+ Years of SF Interior Design Focused on Livable Luxury
Design Matters has spent more than 25 years creating livable yet luxurious spaces that tell each client's story. Their interior designers in the Bay Area focus on interiors that enhance home, family, and lifestyle with architecture, natural elements, and design that complement each other.
View this post on Instagram
The firm was founded by principal interior designer Julie Cavanaugh who is known for her ability to mix texture, color, and scale to create harmonious, balanced spaces. Design Matters will lend their industry expertise to every element of project management, contractor and consultant coordination, detailed product specifications, and installation support.
Learn about their in-depth Bay Area interior design process before getting started!
Contact Info & Portfolio
Culbertson Interiors | One of the Top Interior Designers in San Francisco for 35+ Years
Jeff Culbertson has been a leader in San Francisco interior design for more than 35 years. Known for his refined aesthetics and technical focus, he specializes in architectural detailing, material selection, and space planning. Culbertson Interiors has developed a large portfolio of Neo Classic, Modern, Contemporary, and European interior design.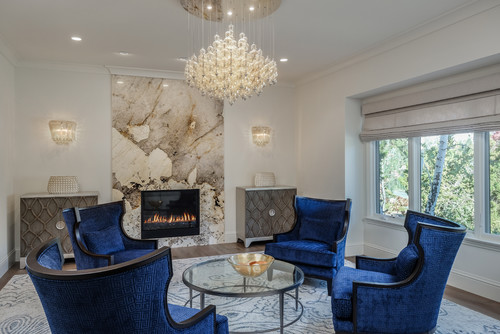 The Culbertson Interiors approach begins holistically to explore concepts based on what inspires you and how you will use the space. Next, the Bay Area interior decorators will present options, design concepts, and solutions for your space. This is a collaborative approach to fine-tune your design. The concepts will then shift toward specifics to outline the scope and details of your project and finalize architectural elements, patterns, textures, fabrics, colors, and lighting. You will receive a comprehensive package of options to bring your vision to life.
Contact Info & Portfolio
Modsy | Online Bay Area Interior Design with 3D Designs & an Expert Designer
This final option is a more modern and innovative solution to working with an interior designer. Bay Area residents can use Modsy, an online interior design app that pairs you with expert San Francisco interior decorators.
Scan your room with the app or upload photos then get paired with an interior designer who will create 3D designs based on your budget, style, and needs. You'll receive interactive designs and collaborate with your designer until everything's perfect. You can then shop directly from your design with a single checkout process and discounts.
View this post on Instagram
Modsy sources items from more than 100 brands including West Elm, Kerala Design, Pottery Barn, Ravine Home, Noir, and Wayfair. Packages start at $159 with unlimited revisions. Prices of décor and furniture are not marked up and you can get help from experts no matter your budget.
Interior Designers San Francisco Map
Have you found the San Francisco designer you think is the best fit for tying together all your ideas and bringing your vision to life? While we can't help with the design aspect, AMS Relocation can help make moving day worry-free if you're getting ready to move into a new home or temporary housing while selling or building a home. Give us a call for a free, personalized moving quote today!