Oakland, nicknamed the "Oaktown" or simply "The Town", is the county seat of Alameda County, and is the largest city in San Francisco's East Bay Region. Oakland serves as the primary trade artery for San Francisco proper, being home to the busiest port in Northern California, the Port of Oakland. A combination of its advantageous position for importing and exporting, as well as the high concentration of modern start-ups like Ask.com and Pandora Radio has led to Oakland having a GDP that rivals that of small countries. Most of the people here are a crowd you'd expect out of such a city, young folks looking to start out into the exciting world of new economic opportunity, and have the culture and nightlife to match.
But Oakland wasn't always tech start-ups staffed by latte-sipping hipsters. The land was once inhabited by the Huchiun, an Ohlone-speaking peoples who had lived in the area for around three thousand years. The area was colonized by the Spanish in the 18th century, until eventually being taken over by the US in the 19th during the Mexican-American War.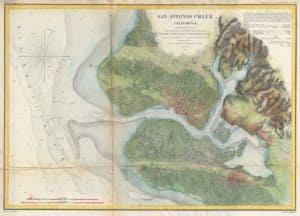 Shortly after the discovery of gold, land in the San Francisco area was far too expensive, so many, notably many Chinese immigrants, and the area quickly grew. During the 20th century, the port was established, and an ever-increasing influx of people drove Oakland to the astronomic economic heights it is at today.
From the very beginning, it seemed like Oakland was destined to be one of the most important parts of the wider San Francisco area. And that importance extends to its residents too, with many notable people such as the ubiquitous actor Clint Eastwood and 24 Hour Fitness founder Mark Mastrov.
Oakland, CA Population & Demographics
The city of Oakland has a population of 433,044 distributed out over 55.9 miles at a population density of about 7,700 people per square mile. The median age here is 36.9, which is about the same as the California average of 37. The median household income in Oakland is $82,018, which is, similarly, about the same as the average household income for the state of California, being $80,440.
Oakland is a very diverse community, and its demographics show 29% of the population being Caucasian, 27% being Hispanic, African-Americans being 24%, and Asians making up 14% of the population. 25.1% of Oakland's population are foreign-born, with 44% of the foreign-born population coming from Latin America, and a similar amount coming from Asia. Oakland's gender ratio is skewed towards women, with 52% of Oakland's population being female.
Oakland's zip codes include the ranges of 94601–94615, 94617-94624, and 94659–94662, while the area code is 510 and 341. Getting in and out of Oakland, with multiple interstates, like Interstate 580 and Interstate 880, routing through the city.
Cost of Living in Oakland, CA
If you know anything about Oakland or San Francisco in general, you'll know it's wicked expensive, with the cost of living here being 49% higher on average than other places in America, according to Payscale. Homes in Oakland are around 118% more expensive than the average home in the US, with the average home costing you $754,725.
Utilities here cost around 14% more than the national average, and groceries around 26% higher than the national average. Meanwhile, transportation fees are around 30% higher than the national average. The average utility bill in Oakland is $190.46.
Oakland, CA Typical Living Expenses
Here are some common items you might buy, and their prices as according to Numbeo:
Milk – $4.56
Loaf of Bread – $3.42
12 Regular Eggs – $4.23
1 lb. Chicken Filet – $6.09
1 lb. Apples – $2.21
1 lb. Tomatoes – $2.64
Gasoline, 1 Gallon – $3.61
Meal at an Inexpensive Restaurant – $15.00
Monthly Internet Cost – $64.95
Those looking to make a living in Oakland should know that the city has a sales tax of around 9.5%, accounting for both state and county level taxes, which is quite hefty.
Oakland, CA Transportation
Need to know how to get around Oakland? The San Francisco area, like her sister cities on the other side of the country, is well-known for being walkable and utilizing lots of public transportation. Oakland residents have easy access to three different international airports, the closest of which is the Oakland International Airport. The primary bulk of bus transport in Oakland is handled by AC Transit, while the Bay Area Rapid Transit system (BART) is the subway in town. The city is also very bike-friendly, with the city coming 7th in 100 cities where the most people chose to commute via bike.
Oakland, CA Schools & Colleges
Living in Oakland, you'll be served primarily by the sizable Oakland Unified School District. The district is home to over 100 schools, of which 17% are rated as Above Average, according to GreatSchools. With such a large number of schools in the area, you'll have plenty of choices, but be sure to choose wisely. Notable ones include Crocker Highlands Elementary School, Hillcrest Middle School, and Oakland School for the Arts.
If you or a loved one are looking to get into higher education, you'll have easy driven access to excellently-rated campuses like the private Mills College, the UC Berkeley, and the California College for the Arts. Those are all within 25 miles, easy driving distance, of Oakland, and there are even more not covered here. You'll have plenty of choices for higher education while living in Oakland!
Oakland, CA Climate & Weather
Oakland is part of California's Mediterranean climate, which means lots of sunny days and little to no snow. That being said, Oakland is further north than a place like San Diego, so it can get pretty cold and rainy during the winter. You can expect lows of 44 degrees Fahrenheit during the winter months, and highs of 72 degrees Fahrenheit during the summer months. Oakland experiences less than the average amount of rainfall when compared with the rest of the United States, with 24 inches per year as compared to 38. Meanwhile, Oakland experiences no snow outside of freak weather occurrences. The best times to visit Oakland, in terms of comfort rating, are July and August.
View this post on Instagram
Best Neighborhoods in Oakland, CA
Oakland, like any good city, has plenty of distinct communities to settle down in. Many of Oakland's neighborhoods are known as trendy types with great nightlife, but there are options for those seeking out a more peaceful type of life as well. Check out some of your neighborhood options below:
There are few places where you can't walk around the nearby area and access all the amenities you need. That being said, there's plenty of options for spacious, suburban style communities with large single-family homes. The affluent Montclair is a good choice, characterized by its windy roads, beautiful properties, and heavily-forested areas. Additionally, the community of Piedmont is a small city that was incorporated into Oakland and has its own distinct community. Both are very safe neighborhoods.
In Oakland proper, the best-known neighborhood is Chinatown, among the first areas to be settled in the Oakland area and, as the name implies, home to the vast majority of Oakland's Chinese population. A lovely cultural site, Chinatown's wide variety of attractions makes it a wonderful place to visit, and much more so to live in.
Looking for an urban area that's more artsy? The Temescal neighborhood is right alongside Chinatown as some of the oldest settlements in the Oakland area, and is well known as an artsy and well-to-do community, with home prices ranging in the millions.
Oakland, CA Crime
Thinking about moving to this community, but wondering if Oakland is a safe place to live? In terms of crime, there's no beating around the bush: Some areas of Oakland's have got serious problems, and deserves its F rating on Areavibes. Oakland's violent crime rate is 235% higher than the national average, with the murder rate here being 18 per 100,000 people, rape at 85.7 per 100,000, robbery at 658.7 per 100,000, and assault at 509.4 per 100,000.
Oakland's property crime rate is slightly better than its violent crime rate, even if that's not saying much, being 204% higher than the national average, primarily because of astonishing amounts of property theft. Burglaries occur at a rate of 598.8 per 100,000 people, theft at 4,660.4 per 100,000, and vehicle theft at 1,161.4 per 100,000.
Oakland overall has a reallyreal bad crime problem, and that's going to be an unavoidable fact of life there. Don't despair, though, as a good choice of a safe neighborhood local community and practices that you should really be undertaking in any sort of big city can mitigate most of the risk to yourself and your loved ones.
Remember most crime happens in concentrated areas that you can avoid.  Refer to Oakland's crime map for additional information.
Oakland, CA Real Estate
Oakland gets an 87 on Redfin's competitivity rating scale, and that should come as little surprise. Oakland's housing market is a cutthroat place thanks to all the up-and-coming industries in the area driving more people to seek out residence here.
The median sale price for Oakland homes is $787,500, which has been on a sharp upward trend within the last few years. Similarly on a sharp upward trend is the number of houses sold, with the last three years being marked by 278 sales, an over 50% increase. On a downward trend is the median days on the market, which has plummeted by 26.3% throughout the last three years, and now sits at 14.
Surprisingly, a majority of Oakland residents, 54% to be exact, live in units they own, while the other 45% rent. Renting here is just like everything else around here, very heavy on the wallet, with an average monthly rent of $2,705.
If you want to make yourself a part of any of these communities, you should check out the latest listings for homes for sale in Oakland, CA.
Jobs in Oakland, CA
Those planning on making a living in Oakland should know that wages have been going down very slightly while cost of living has been skyrocketing, according to Payscale. The most popular positions of employment are Program Manager, Non-Profit Organization, Operations Manager, and Project Manager. The largest employers in the area are Kaiser Permanente, Pandora Media, Inc., and The Clorox Company. The average salary for a worker in Oakland is $78k a year, while the average hourly wage is $23.47.
Oakland is a city of opportunity, and the high pay and multitude of fields to find work in reflect that. Check out the latest listings for jobs in Oakland, CA here.
Things to Do in Oakland, CA
Being right in the center of San Francisco's metropolitan area, it goes without saying that some of the most interesting attractions in the nation are just a short drive away. However, you won't have to leave Oakland for some family fun! You should check out some of the best things to do in Oakland, CA below:
Top Attractions:
Oakland Zoo – Among the oldest and largest zoos in the area, Oakland Zoo's over 600 exotic animals provide a great experience for the whole family!
Jack London Square – Just south of Chinatown, the Jack London Square is an idyllic coastal marina lined with stores, boats, and all sorts of wonderful attractions.
Museums & Arts
Oakland Museum of California – A museum displaying the art and history of California, this modern building holds the most impressive museum in Oakland!
Parks & Outdoors
Children's Fairyland – The number one amusement park in Oakland, this establishment features rides and theater plays, and is just as family-friendly as the name implies!
Joaquin Miller Park – A dog-friendly park set in 500 acres of woodland, Joaquin Miller Park is a lovely place to spend your time outdoors!
Shopping
Foothill Square Shopping Center – Featuring retail stores, healthcare services, beauty establishments, and recreation areas, Foothill Square is your one stop spot for shopping in Oakland.
Eastmont Town Center – The Eastmont Town Center actually fell out of use for quite a while, but is now back better than ever! Packed with tons of great stores, Eastmont Town Center is an excellent place to get your shopping done.
Places to Eat in Oakland, CA
Alongside its host of things to do, Oakland is also home to plenty of great eats! Check out some below:
Family-owned and running out of Oakland's Auto Row district since 2008, Mua is an eclectic bar and restaurant meant for clubbing and enjoying yourself. With plenty of fantastic cocktails, a spacious area owing to the fact that the restaurant is run out of a renovated warehouse, and even a decent menu of meals, there's a lot about Mua that appeals to the artistic crowd of Oakland.
2442a Webster St, Oakland, CA 94612, +15102381100
View this post on Instagram
No, we haven't put a car dealership in here by mistake! Drake's Dealership is the taproom of San Leandro Brewery, and alongside the great drinks also has a great selection of wood-fired pizzas and more! Running out of an old car dealership, hence the name, Drake's Dealership is a fixture in many Oakland residents' hearts. With almost 4,000 reviews on Google and a 4.6 star rating, this dealership will blow your socks off!
2325 Broadway, Oakland, CA 94612, +15105682739
Ever wanted to go back to school? No?! Well, Homeroom will change your mind! Continuing our theme of incredibly unique restaurants with very odd ideas about their branding, Homeroom will make you feel like a little tyke again with a restaurant designed like a cafeteria and their special dish, artisanal mac and cheese! Despite how odd that might sound, the mac and cheese here is truly above and beyond what you'd expect out of such a dish, and Homeroom has firmly cemented its place in the heart of many Oaklanders!
400 40th St, Oakland, CA 94609, +15105970400
Sports in Oakland, CA
Oakland is home to three major league sports teams: the Oakland Athletics, the Oakland Roots Soccer Club, and the Oakland Panthers, being a baseball, soccer, and indoor football team respectively. While Oakland did have a professional football and basketball team, the Oakland Raiders and the Golden State Warriors, both would end up moving to other cities. In terms of venues, the Oakland Coliseum is the big crowd-bringer, with plenty of seats and a big field to watch baseball games in.
Moving to Oakland, CA  Pros & Cons
Pros:
A bustling and healthy tech industry
Walkable neighborhoods
Cons:
Serious crime problem
Very expensive
There's a lot to desire about Oakland. Oakland certainly struggles with crime, of that there is no doubt, and Oakland's real estate prices won't go easy on your wallet either. However, the opportunity present in Oakland is unmatched anywhere else in the country, and more than makes up for the costs. If you're looking to succeed, there are few places better than Oakland.
Ready to take that last step and start your journey to making Oakland your new home? Give AMS Relocation a call at 650-284-2931! Our crew of highly-trained professional movers will ensure your move is a stress-free process at affordable rates! Call now or fill out our online form for a free quote!